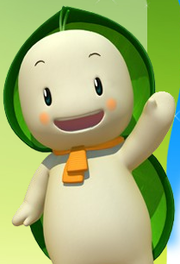 Noonbory is the leader of the Super 7. He flies on a helicopter bicycle called a 'windbike' to fly above and a windboard that can go really fast. Noonbory has some big and little secrets though: He has a crush on Jetybory. He has a sidekick named 
Mamby
the leader of the Super 7. When there is problems, his Common Sense can bring out the solutions. He has a grandfather named Hanubi and a sidekick (pet?) named Mamby. He has a catchphrase called "Lets make super sense of this!". He may have strong feelings for Jetybory. His sense is Common Sense..
About Him
Edit
Color: White
Gender: Male
Super Sense: Common Sense
Features: Green cape, orange scarf, orange cheeks, two green hairs on head
Age (as of 2009): 10
Crush: Jetybory
Nickname(s): Noon
Catchphrases(s):Go Bo Borys, Let's Make Super Sense Of This, Hurry Scurry, All Together We Are Better!
Voice Actor: Brent Hirose
General Fanon
Edit
MrMenCentral Fanon
Edit
His full name is Noonbory Commonsense.
He has a cousin named Impossibory.
PinkAru is his sister.
He is voiced by Brent Hirose.
Ad blocker interference detected!
Wikia is a free-to-use site that makes money from advertising. We have a modified experience for viewers using ad blockers

Wikia is not accessible if you've made further modifications. Remove the custom ad blocker rule(s) and the page will load as expected.