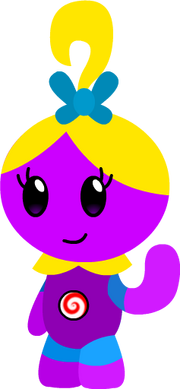 Impossibory is 
Noonbory
's cousin who can do impossible things. When she does these things, her hands glow a bright red and her symbol spins around. Her symbol is a white circle with a red swirl.
About Her
Edit
Full Name: Impossibory Commonsense
Color: Purple
Gender: Female
Features: Yellow hair in question-mark-shaped ponytail, blue bow, blue shirt, light blue pants, purple outfit similar to Lunabory's with a yellow collar
Age (as of 2009): 12
Crush: unknown
Nickname(s): Impossi
Catchphrases(s): "That's impossible," "I can do anything."
Impossible things she has done
Edit
Ad blocker interference detected!
Wikia is a free-to-use site that makes money from advertising. We have a modified experience for viewers using ad blockers

Wikia is not accessible if you've made further modifications. Remove the custom ad blocker rule(s) and the page will load as expected.